With the Bosch HBS534BS0B Oven, cooking has never been so easy and enjoyable. This fantastic electric multifunction oven offers plenty of cooking space for big families, plus a range of superb features, designed to make cooking at home as fun and stress free as possible.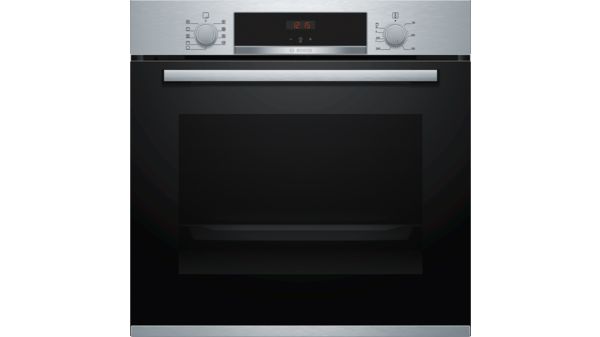 ​
Food Cooked to Perfection
Thanks to Bosch's advanced 3D Hotair feature, your food will be cooked perfectly every time. 3D Hotair ensures hot air is quickly and evenly distributed throughout the entire oven cavity to all three levels. The fan wheel at the back of the cavity produces a steady, even airflow, so you can cook on three levels simultaneously without mixing flavours. This means that wherever you place your food in the oven, there will be absolutely no difference in quality, the results are always perfect. Especially handy for keen bakers and for big families with many mouths to feed. Thanks to 3D Hotair you can even combine sweet and savoury cooking. So dessert can be served straight after your main. The HBS534BS0B takes all the hassle out of cooking.
Key to the success of the HBS534BS0B is its versatility. With its slim universal pans, you can cook several different combinations of foods simultaneously, for different durations, all on the same shelf. The pans are designed to easily fit into fridges, for cooling pre and post cooking, and they even slot effortlessly into the dishwasher.
Easy Clean, No More Scrubbing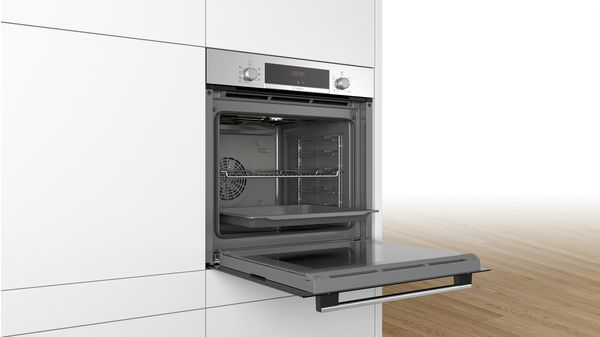 Hours spent on your knees scrubbing burnt on stains from the inside of the oven are long gone. Thanks to Bosch's EcoClean Direct lining, all you'll need to keep your oven looking spotless is one quick wipe with a cloth. The oven's cavity is coated with microfine ceramic balls that absorb grease and grime, breaking them down through oxidation while you cook. This coating regenerates itself continually every time you heat the oven, for the entire service lifespan, saving you time and energy.
User Friendly Design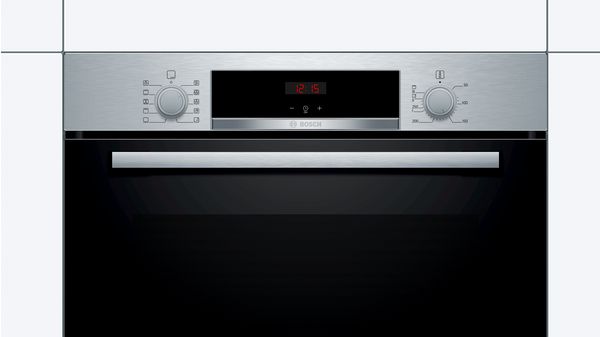 The HBS534BS0B has a user friendly design that is simply to master. The red LED display gives you easy control of your cooking. And with seven different cooking functions, you can cook whatever your heart desires. The 71 litre capacity of this oven offers plenty of cooking space, perfect for large families and entertaining guests. Safety is a priority, with a child lock as standard.
For effortless and efficient home cooking with delicious results time after time, choose the Bosch HBS534BS0B Electric Oven. Bosch continues to create amazing appliances that are designed to make our lives easier. A line up you can rely on.
Get a great deal on the Bosch HBS534BS0B Oven when you purchase through Appliance World. For first class customer service and a range of delivery optionsaccross the UK, choose Appliance World. Click here for more information. Or browse our range of incredible deals on the latest Bosch ovens. Got questions? Contact us by phone, online or in store to speak to a member of our friendly team.