The innovative, efficient KGN34XL35G Fridge Freezer from Bosch offers fantastic performance at great value for money. Featuring intelligent technology that provides the best conditions for food storage, this sleek, stainless steel freestanding fridge freezer is top of our appliances list.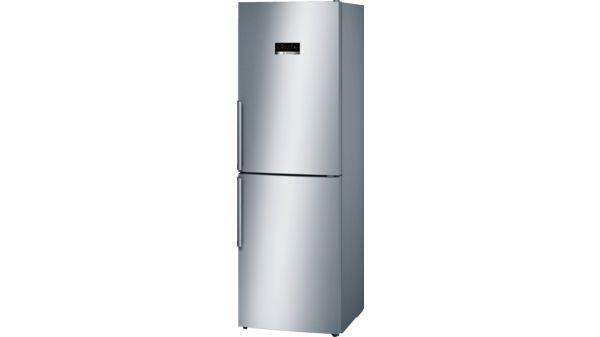 Lower Running Costs and Less Waste
Rated A++ for energy usage, the 319L capacity KGN34XL35G uses only an average of 267kWh per year. Its digital compressor technology improves energy efficiency to help cut running costs. Plus, with advanced cooling keeping food fresher for longer, food waste will be a thing of the past. The fridge freezer even comes with a holiday mode, protecting your frozen items and reducing energy consumption while you're away. So, with reduced waste and lower energy bills, you'll be saving money when you trade your old fridge freezer for the KGN34XL35G.
Food Stays Fresh for Longer
Thanks to Bosch's VitaFresh technology, food can stay fresh up to three times longer than usual, while retaining its vitamins and nutritional value. The KGN34XL35G creates the optimum storage conditions for food, with two different VitaFresh humidity zones that are specially designed to store both dry and moist foods. By keeping food at the perfect temperature, FreshSense technology helps achieve enhanced freshness and flavour, with sensors that are constantly monitoring the fridge's environment. Plus, with MultiAirflow, providing a gentle, even distribution of cold air throughout the fridge, cooling time will be minimised, helping food to keep its flavour for longer during storage.
SuperCooling functionality will automatically lower the temperature of your fridge for short periods to keep it at just the right temperature. Perfect for when you've been to the shops and need the optimum temperature for your fresh groceries. SuperFreeze technology allows for rapid freezing just when you need it. And the KGN34XL35G comes with a Bosch AirfreshFilter that neutralises odours and filters out bacteria.
The KGN34XL35G Fridge Freezer includes two separate cooling units. Not only is this more convenient, allowing you to control the fridge and freezer compartments independently and preventing odour transfer between the two compartments, but it also saves energy.
Easy and Convenient
You'll never have to spend time defrosting your fridge again. With Bosch's NoFrost technology, the humidity inside your fridge is regulated and collected. This prevents condensation from building up inside your fridge as NoFrost automatically defrosts it on a regular basis.
The team at Bosch have designed a fridge freezer that is easy to use and maintenance free. Featuring EasyAccess retractable shelves made from shatterproof glass, loading and unloading groceries is super convenient and you are able to see exactly what's inside your fridge at all times. The four glass shelves pull out smoothly and the fridge also incorporates three VitaFresh drawers and three drawer trays for maximum storage potential. In the freezer compartment, VarioZone allows for flexible storage, with moveable glass shelves and drawers making life easier. What's even better, is that thanks to Bosch's expert design, the KGN34XL35G allows for flexible installation and can be positioned next to walls or furniture, without hindering usage.
Choosing a Bosch fridge freezer means high performance and intelligent design. Get the best deal on a Bosch KGN34XL35G Fridge Freezer from Appliance World. With excellent customer service and a range of delivery options accross the UK. Click here for more information.