Families will love the spacious capacity of the built in Bosch KIR81VS30G Fridge. This 319 litre integrated fridge is ideal for storing all your groceries. Plus, with advanced freshness technology and other handy features, the KIR81VS30G is one of our top choices for integrated food storage appliances.
​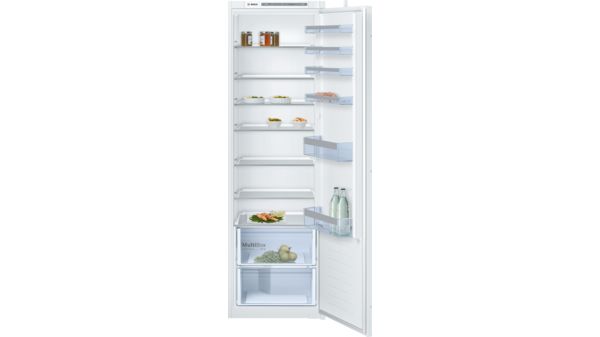 ​
Adapting to Your Family's Needs
Size is not the only feature that makes the KIR81VS30G great for families. It's in-built flexible storage solutions make storing groceries simple. The fridge's shelves are made of shatterproof safety glass and are also adjustable, making for hassle free loading and unloading of your shopping. Plus, with transparent glass, you'll still have a full view of the contents of your fridge, so that no food is left forgotten.
For your slightly bigger items, the Multibox drawer is perfect. Items such as big lettuces or large joints of meat can be kept secure and stored correctly at the right temperature. With seven large shelves, six door trays (including a dairy compartment) and two Multibox drawers, you'll be able to store plenty of food.
​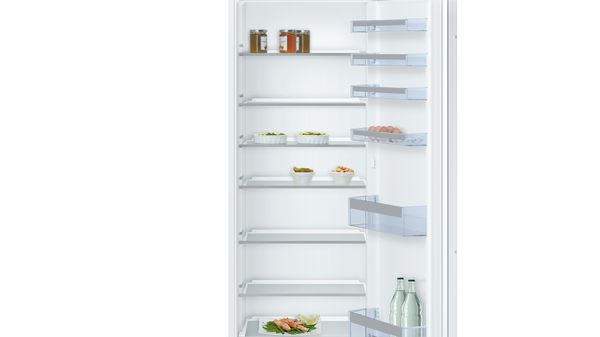 ​
Preventing Waste and Saving Costs
Bosch prides itself on its range of energy efficient fridges and the KIR81VS30G is no different. This fridge comes with an A++ energy rating (which means a 25% lower annual energy consumption than A+ rated similar appliances). The KIR81VS30G uses just 116kWh of energy on average each year, so your energy bills will be singing. Bosch has thought of everything, even the interior light is LED, offering glare free illumination while using less energy than normal bulbs.
Thanks to Bosch's innovative freshness technology, the KIR81VS30G provides optimal storage conditions for your food, helping keep it fresher for longer. In fact, tests have shown that food stored in this fridge stay fresh up to twice as long as in other fridges. Not only that, but food still retains its important vitamins and minerals, helping you feed your family more healthy and nutritious food and stopping it from going to waste.
The key to creating the perfect environment for food to remain fresh for as long as possible is consistency. FreshSense generates the ideal climate for your food, with sensors that monitor and control the temperature inside the fridge, ensuring consistency and a constant temperature that keeps food fresh.
​
Giving You Control
The KIR81VS30G features Bosch's superior SuperCooling function, meaning you can lower the fridge's temperature before you go shopping, so that when you return, the fridge is at the optimum temperature for loading your fresh groceries. The function ensures fresh produce is kept at the correct temperature and automatically switches back after six hours to reduce unnecessary energy usage.
There are countless other features to love, including the easy auto defrost, making manual defrosting a thing of the past. But most of all, buyers love the fridge's large capacity, great design and low energy consumption.
Get your hands on a Bosch KIR81VS30G Fridge from Appliance World. Click here for more information or browse some of our other great deals on Bosch appliances. For great customer service and a range of delivery options accross the UK choose Appliance World.