Bosch WTWH7660GB Tumble Dryer
Combining smart technology and high performance drying, the Bosch WTWH7660GB tumble dryer is perfect for active households. This freestanding condenser tumble dryer delivers gentle, yet effective drying, with intuitive functions that treat your clothes with care.
​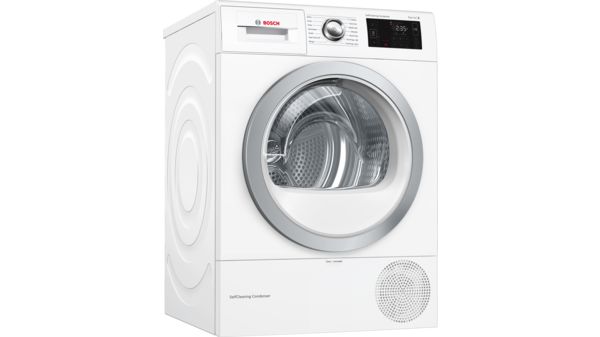 ​
Smart Tech for Smarter Homes
The WTWH7660GB will fit seamlessly into your laundry routine. With innovative smart technology, your wash cycle has never been so easy. The Bosch Home Connect app connects your tumble dryer direct to your smartphone via Wi-Fi, with a range of features to help improve your drying cycle. Access tutorials, tips and cycle status updates. You can even set push notifications to alert you to when the dryer is done and FlexStart will help ensure you are using the dryer in the most efficient way. Struggling to choose which program to set? No problem. EasyStart will recommend the right program depending on the type of fabrics and your drying targets. The WTWH7660GB makes for a smarter home and an easier life.
When drying clothes, we are always conscious of getting good results and not ruining our favourite fabrics. The WTWH7660GB uses Bosch's AutoDry sensitive drying system, which runs a gentle cycle that still dries clothes effectively. AutoDry keeps track of the dryer's temperature and moisture levels, adjusting the cycle to keep clothes protected from overdrying or shrinking.
Energy Efficient Eco-conscious Drying
With an average annual energy consumption of 243 kWh and an energy rating of A++, the WTWH7660GB makes concerns over energy usage a thing of the past. The heat pump condenser system is not only incredibly efficient, but it also delivers great performance thanks to ActiveAir technology. ActiveAir works without conventional heating, using existing heat and making the process much more cost-effective.
A Superb Selection of Handy Features
This 59.7cm wide, 84.2cm high and 59.9cm deep tumble dryer boasts a whopping 9kg drying capacity, plus a range of handy features. The anti crease cycle will help you make short work of the ironing pile, while the timer delay means you can set it to run overnight, allowing you to wake up to warm dry clothes ready for the day ahead. The WTWH7660GB is also equipped with an AntiVibration design, the added stability helping to reduce vibration, even during the spin cycle. Plus, the enhanced insulation helps to reduce noise levels, making this dryer one of the quietest on the market today. A full touch digital LED display with illuminated control dial makes this dryer easy to operate, with intuitive program setting, getting started will be a breeze.
Great for active families, the WTWH7660GB features a sportswear program which protects coloured fabrics and modern microfibres, while reducing creases. Perfect for the kids' muddy football shirts. Outdoor+ drying technology is specially programmed to protect your family's outdoor clothing, meaning coats and other outerwear can be washed and dried with confidence.
One of the best features of the WTWH7660GB is its SelfCleaning system. With automatic cleaning, this dryer is incredibly low maintenance and increases performance levels. The dryer comes with a five year manufacturer warranty and is designed to last, making it a great investment for any home.
Choosing a Bosch tumble dryer means quality and performance guaranteed. Get the best deal on a Bosch WTWH7660GB Tumbler Dryer from Appliance World. With excellent customer service and a range of delivery options. Click here for more information.