The Ovens Of The Future - Available Today At Best Oven Retailer In Manchester
Does this look like an oven that could sit in your kitchen? It probably looks more like a camera than a conventional oven but this is a new oven called "Inspiro".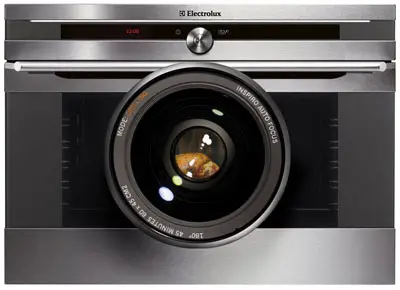 It has sensors that can detect what is to be cooked and calculates the temperature and time required. For example, if you wanted to cook a joint of beef, you would be able to select how you wanted the joint to be cooked ie well done, medium or rare. The oven will even be able to tell you which shelf to put the tray onto. Unlike today's conventional ovens, there is no need to heat the oven to the desired temperature before putting in the food, as it calculates the cooking time based on starting with a cold oven. "Inspiro" will calculate the energy consumption, and time needed to raise the temperature of the meat to the required level. This information is combined with the ovens database of professional cooking techniques to calculate the combination of heating modes required ie top, bottom, side, hot air or grill. Therefore removing a large headache many cooks experience today (burnt or uncooked food!!)
Modern Oven Retailer Manchester - What else can we look forward to?
Manufacturers are also looking at developing an oven app which allows users to control the temperature of their oven from their android device, watch the cooking via an interior mounted camera and share the results via social media.
The development of such an app means that you will be able to switch on your oven from work, set the temperature and watch your food cook throughout the day by using your smart phone.
One manufacturer has developed one such oven that allows the user to cook food in over 220 ways, including a healthy Air Fry mode that only uses a small amount of vegetable oil and reduces fat intake by over 77% by using a corresponding application downloaded onto their smart phone. The app will also be able to look for recipes specific to the type of food required to be cooked, or by the cooking method required.
It's not just ovens that maybe changing in the future, microwave ovens are also looking at changing. One manufacturer has designed a microwave that will be able to detect the number of calories in the food that is heating. The information will be sent to your smart phone.
Another option for the future is a microwave that plays a You Tube clip whilst cooking food!
For the very latest oven technology visit one of the showrooms of the best oven retailer in Manchester - Appliance World or telephone 0161 464 6883